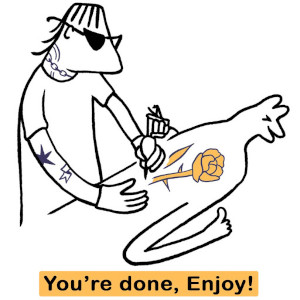 Tattoo Care
Before-and-After
We have compiled some common information on Tattoo care. This is not a Policy Page. Before and after care is something that you'll need to sort out with yourself and your artist. This is merely a page with some suggestions and tips we think help.
Tattoo Before Care
There are a couple things you can do before you show up to your appointment to ensure optimal levels of awesomeness. Your artist may have some requests as well. Please be respectful of their needs.
If you aren't feeling well, get your booking rescheduled. If you are within the 72-Hour Window, talk to your artist.
Show up on time and ready to go!
Be well rested, be well fed, and be well hydrated!
Dress in comfortable and clean clothes!
Avoid strong fragrances. Some folks are sensitive, and you don't want your artist to be distracted!
Bring a mask in case you need it! Be respectful of the needs of others.
Avoid alcohol or drugs the night before. You'll likely feel hungover and your blood will be thinner - which means you may bleed a bit more during the tattoo.
Personal hygiene is a big one. In addition to showing up fresh and clean, give the area you're getting worked on a quick shave!
Tattoo After Care
The better you take care of the art on your body, the more brilliant the lines and colours will be over the years. Tattoos are open wounds on your body. Consider it an investment in yourself and treat them as such!
Keep your tattoo as clean as possible, especially in the first couple weeks.
Moisturize your tattoo after you shower. Keeping the skin happy and healthy is important for a great lasting tattoo.
Sunscreen your tattoo when outside, it prevents the ink from fading.